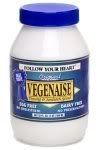 Never ate a lot of mayo in my day, but lately i've been missing the spread of something on a sammich and yummy dips. Though i got about 3 different pronunciations of the name, everyone said the same thing: "It's GOOD."


Pro's:
Creamy
Has it's own slightly sweet flavor
Not oily
No Trans fats
No cholesterol (because it has no animal content!)

Con's:
Fat content (still 20% less fat than mayo though!)

Verdict: HIT

This stuff is to die for, it's creamy, slightly sweet, great texture and amazing hold, i want to kiss the makers! I served this mixed with lemon and dill for dimmping some fresh hot artichokes and carnivorous E said "What IS this stuff, it's INCREDIBLE, this is like GOOD mayo!". Don't gobble it down too fast though, because 1 Tbsp has 14% your DV of fats (about 9g fat, 1g sat fat= 4% DV) BUT that is bounds less than regular mayo. I think my mouth is watering...

For more information on this product, check out The Follow Your Heart Vegenaise page.