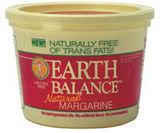 I didn't think i'd be able to find something to replace creamy farm fresh butter, but this has fast become a staple in my house. From sauces to toast, it's always perfectly delicious.

Pro's:
Looks, spreads, melts like butter
AWESOME buttery taste, slightly sweet beginning
No slippery film in the mouth
Large tub lasts a long time
Good for baking, has baking measurements on tub

Con's:
flavor isn't long lasting

Verdict: HIT

I wish the flavor lasted longer, but that's because it's SO GOOD! This stuff is perfect for pancakes, crusty breads, or sauteing onions and garlic to start a meal! However, if you want to be a baking guru (like i do) go ahead and purchase some of these:


They keep great in the freezer (thaw before use), and you'll always have enough on hand to make some fluffy vegan biscuits. For more info visit Earth Balance.