So, i'll be the first to admit that there's not anything really Tuscan about this recipe. However, i was trying to recreate Olive Garden's Toscana soup, so i thought since i changed most of the ingredients, i might as well keep some of the name. Although, there's not much Tuscany in their recipe either. In any case, it turned out great, i highly recommend this dish for those dark cold nights of winter.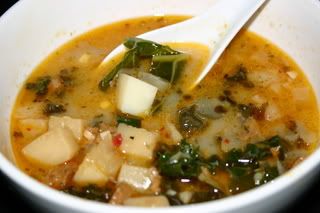 Zuppa Toscana
2 tbsp olive oil
1 onion, chopped
3 cloves of garlic, minced or pressed
2-3 small white potatoes, cubed
2 tofurkey italian spiced sausages, small cubed or crumbled (or whatever you like for a sausage substitute)
1/2 tsp red pepper flakes, or more if you like it spicy
1 pinch kosher salt
5 cups of water + boullion or 5 cups of stock
1 cup soymilk
2 tbsp earth balance
4 large bunches of kale, sliced relatively thin
1) Cook chopped onion, garlic, and cubed italian sausage over medium heat in the olive oil with the red pepper flakes and salt till onion is translucent and garlic is fragrant.
1) Add diced potatoes and stir, cooking for 2 minutes.
3) Add the water and boullion, or 5 cups of broth, whichever you are using.
4) Bring mixture to a boil, reduce to a simmer and coook for 20 minutes.
5) Add in the soymilk and earth balance and heat through.
6) Toss in the chopped kale and cook for 2-3 minutes, stirring.
-Serve immediately in big bowls with some crusty bread-
Notes:
- I find that the italian tofurkey sausage has enough spices, but if you don't want spicy, leave the peppers out. Be sure to add the salt though, even just a pinch makes a world of difference.
- Sometimes 6 cups of liquid is too much, so you can just simmer the soup on low to reduce some of the liquid to your tastes.
- Usually this soup isn't as great the next day since the kale gets all greenish/brown from the breaking down of cell walls, so i suggest cooking a large pot of it to share with family, or halving the recipe for a smaller amount.