When i saw this on Vegan Yum Yum, i knew that the Seitan O' Greatness would be perfect. I decided to go with the garlic sauce, as i am a garlic fiend! Here is the original recipe. (I apologize for the poor pic quality, my camera is very retarded.)
Starting the sauce, ooh look at all that lovely garlic! I added some red pepper flakes for kick and a dash of onion and garlic power for some more flavor. Cause you know, you can never have too much flavor.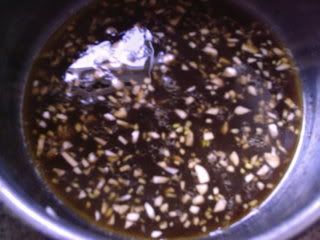 Frying up the seitan in the peanut oil, it's so fragrant. The oil is the only part i don't like of the recipe. I'll try frying with some water next time, cause i had to drain them on a lot of paper towels.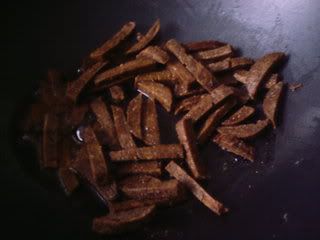 The finished sauce, thick and glossy. I subbed arrowroot powder for cornstarch as i have a pound of it. The garlic released some great oils as it heated, and i added another dash of red pepper.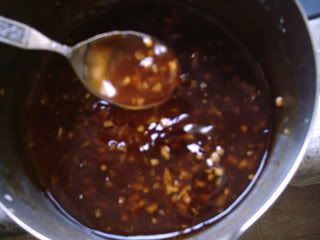 With some carrots and broccoli added right in, topping of sesame seeds.
This was really good, the perfect blend of spicy and sweet. I realize now that i used sushi vinegar instead of seasoned rice vinegar but it still came out great. I had to drain the seitan a lot to get the oil off, and i forgot that my vinegar had msg in it (i got it in chinatown, what should i expect!?), but this will be in my regular rotation for sure.