This recipe has taken over the internet in a matter of days, and for a good reason, no boil seitan is a dream come true. This is my second run of the Seitan O Greatness.
Original Recipe:
1.5 cup vital wheat gluten
1/4 cup nutritional yeast
1 tsp salt
2 tsp paprika
1/4 tsp cinnamon
1/4 tsp cumin
1-2 tsp pepper
1/8 tsp cayenne pepper
1/8 tsp allspice
3/4 cup cold water
4 tbsp tomato paste
1 tbsp ketchup
2 tbsp olive oil
2 tbsp vegetarian Worcestershire sauce (or soy sauce)
1-3 cloves garlic, crushed well

(1) Preheat oven to 325°.
(2) In a large mixing bowl mix dry ingredients. Mix the rest of the ingredients (liquid ingredients) in a smaller mixing bowl. Wisk well until mixed.
(3) Add the liquid ingredients to the dry ingredients. Mix well, then knead for several minutes.
(4) Form into a log (6-8" long), wrap tightly in foil, twisting ends.
(5) Bake for 90 minutes.

Notes:
When done baking, unwrap and leave out to cool all the way.
I tweaked the recipe by adding some liqid smoke, more minced garlic, and onion powder. Here is a shot after a few minutes of kneading and shaping. It started to turn my hands and cutting board orange!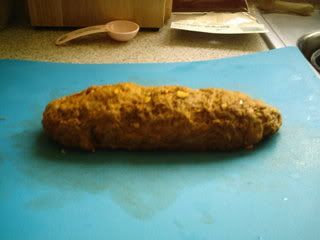 All demure and wrapped up in tin foil...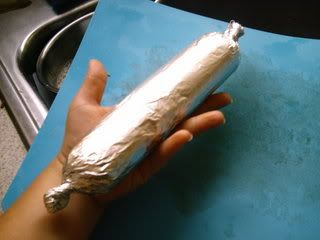 I used my toaster oven just like SusanV from the Fat Free Kitchen. If you look closely, you can see my reflection on the left, ready to chomp on the tinfoiled (ouch!) seitan.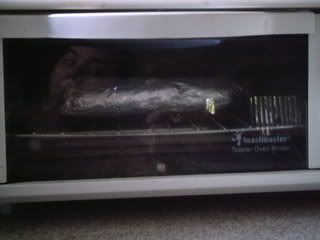 After 90 mins in der toaster oven, i've never been to delighted to see a warm steaming brown log.

I didn't wait until it fully cooled to slice a yummy piece off. This is absolute perfection, i can see stews, stir frys, sammiches, and the like in my near future.